Click on the above to play video
* * *

Become Aware of Your Self Today * * *
www.RealizationSystem.com
The writers featured on this site range from those influential in the early development of what was originally known as Mental Science and later became known as New Thought such as Ralph Waldo Emerson, Phineas Parkhurst Quimby, Warren Felt Evans, and the Dressers, to gifted teachers and healers such as Emma Curtis Hopkins, Henry Drummond, Ursula Gestefeld, Annie Rix Militz, Prentice Mulford, Henry Wood, William Atkinson, H. Emilie Cady, Horatio Dresser, Thomas Troward, F.L. Rawson, Walter Lanyon, and Christian D. Larson; to founders of religious denominations such as Mary Baker Eddy (Christian Science), Charles Fillmore (Unity), Malinda Cramer and Nona Brooks (Divine Science), Ernest Holmes (Science of Mind), and Masaharu Taniguchi (Seicho-No-Ie); to prolific, best-selling authors such as Ralph Waldo Trine, Orison Swett Marden, James Allen, Emmet Fox, Florence Scovel Shinn, Joseph Murphy, Joel Goldsmith, Neville Goddard, Uell S. Andersen and Jack Addington; to writers of contemporary best-sellers in the self-help, self-improvement and motivation fields such as Catherine Ponder, Robert Collier, Napoleon Hill, Eric Butterworth, Agnes Sanford, Norman Vincent Peale, Vernon Howard, Louise L. Hay, Shakti Gawain, Wayne Dyer, Deepak Chopra, Stuart Wilde, Marianne Williamson, John Randolph Price, Alan Cohen, and Gary Zukav.
"To teach man to come into a conscious realization of the divinity within, and the unity of man and God, so that out of the sublimity of his soul he can say with the Gentle Master, "The Father and I are one," is the supreme purpose and meaning of New Thought."
Although the majority of the books featured on this site were written 80-100 years ago, many have remained continually in print throughout this time and can be safely ordered on-line using a Credit Card through our association with Amazon.com. . . . Many are now available in handy ebook form also for immediate download.


Click Here
to read a free online book explaining the principles and practice of Mental Science.
---
Prosperity Classics

All the following books are available to purchase in eBook form for immediate download. They may then be read on your computer and printed out. The eBooks are in Adobe Acrobat Reader (.pdf) format. We have provided descriptions and excerpts from most of the featured books. We have also provided links to Amazon.com if the books are available in printed form.
You can buy the eBooks safely with a credit or debit card (or digital check if you live in USA) from
2CheckOut.com Inc.
(Ohio, USA), an authorized retailer for goods and services provided by
AA Web Services.
You can also pay by PayPal. To do this, simply log in to your
PayPal
account, click the "Send Money" tab, and then send a payment for the total amount of your order to: orders@aawebservices.com. In the "Email subject:" section type "ebook order", and then just list the ebooks you are ordering in the "Note:" section. That's it! You will receive download details within 24 hours.
.
NEW THOUGHT RELATED AUTHORS
.
Click on the links below for biographies and a listing of free on-line
and other books and writings by these authors:
.bvb....
For a complete alphabetical listing of all on-line New Thought
related books
click here
.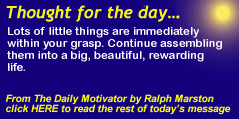 .
Get your FREE Key-Books 21-part
"Pathway to Prosperity" eCourse.
Subscribe Now!


(Your email address will not
be given to anyone else)

.
The Spirit of The New Thought
Part 7
CAN DISEASE BE ENTIRELY DESTROYED?
BY EMMA G. WARE
[Miss Ware was a patient and follower of P. P. Quimby.]
To answer this question it is necessary to understand what is the origin of disease. Medical authority asserts that it is of matter, and that the germs of various diseases have been found and analyzed. Popular belief acknowledges its existence independent of man, and certain localities are believed to be infected by it, thereby rendering human life in danger from the poison emanating from it. If the materialistic theory is true, the medical authority is correct, and the popular belief that disease is a creation as much as man is well founded. But the truth we are studying denies this in principle and in fact. Health is like liberty, directly from God, and it can be kept and enjoyed. Man can learn to live in health as truly as he can learn to govern his morals. With a full understanding of the truth man need not be sick and diseased any more than he need be vicious. The universal belief in disease is founded on the universal belief that matter has life, power, and can direct itself. If this is true, it accounts for disease, but it does not destroy it, and so long as this belief in matter lasts just so long will disease be in the world. Therefore, to destroy it we must take away its foundations.
Can all life and intelligence be taken from matter and yet allow man to remain with his senses and faculties? This is what the truth will do if it is allowed to work. The first point to settle in investigating a phenomenon is the relation between the Creator and the thing created. The Creator is omnipresent, and all His works praise Him. In Him is all life and all love. Matter we can assume is without power and without comprehension of any kind.*
*This was a cardinal principle with Mr. Quimby. -Ed.
---
God cannot be found
..in one place,
......one day, one person.
God is truly in all people,
..all places, all creatures --
....all creation.
We feel His presence
..wherever we go,
....in whatever we do . . .
......because
God is everywhere.
Click Here for a some more inspiring
poetry and meditations selected by
Unity librarian, Harold Whaley.
THE LORD'S PRAYER
(translated directly from Aramaic to English, rather
than from Aramaic to Greek to Latin to English)
.
Our Universal, All-Knowing Presence,
Your nature, which is separated from all
untruths, is sacred.
Your advice and counsel are present.
We allow your wish to be done through us,
As it is done in the cosmos.
We accept your provision of all the necessities
of life day after day.
And as we are freed from our own mistakes,
We now choose to let go of the mistakes
of others.
Because of your Eternal Presence, we are kept
from erroneous, materialistic thinking,
And no longer find fulfillment in useless,
unnecessary suffering.
For this truth we are thankful.
Amen.
(Use the < Back button on your browser to return to this page after search)
---
.



---

Thank you for visiting Cornerstone Books


(Netscape users press Ctrl + D)

  


.

 


.




Click above to read the

Christian Science Monitor

daily newspaper


---



If you have a website that is part of the greater New Thought Movement, i.e. one
that is concerned with advancing global awareness of New Thought principles,
please consider joining the New Thought Webring.
---
© Copyright 2000-2013 - Cornerstone Books
http://cornerstonebooks.net